BLS-KB19-919
Through the BluOS app you can create and manage playlists using music from your local library, or from streaming services.
To create a playlist navigate to a song or album you would like to add to this playlist, select the 3 dots and choose "Add to playlist..."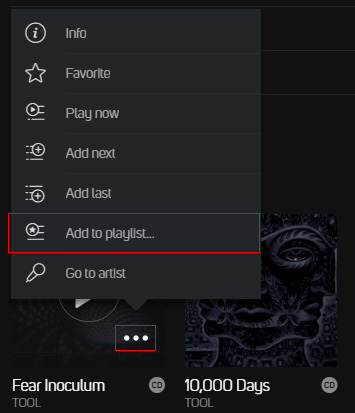 From here you will be given the option to save this playlist as either a BluOS playlist or to your selected streaming service. If saved to BluOS, you can include an assortment of music from multiple streaming services or a local library however this playlist will only be available from the BluOS app. If you save this playlist to your streaming service, the playlist will be available from the streaming service's application as well but you will only be able to add content from this specific streaming service to this playlist.
Once you select where you would like to save this playlist, select the + icon in the top right to create a new playlist.

After creating this playlist it will then show as an available playlist listed after selecting "Add to playlist..." on other tracks or albums.
To delete or make changes to playlists from your streaming services you will need to do so directly from the streaming service's application as this can not be done directly through BluOS.
To edit a BluOS playlist you will first need to clear your current Play Queue. For more information regarding the play queue, please see the link below.
After the play queue is cleared, open the BluOS playlist you would like to edit by going to My Playlists on the left side of the BluOS app. Then select the edit play queue button and remove or rearrange the songs in your playlist as you see fit. Once you are finished making these changes select the save play queue button and save the current play queue with the exact same name as your playlist. Saving the play queue with the same name as your playlist will overwrite the previous playlist and save the changes which you have made.
To delete a BluOS playlist simply go to My Playlists, select the 3 dots to the right of the playlist you would like to remove and select Delete.