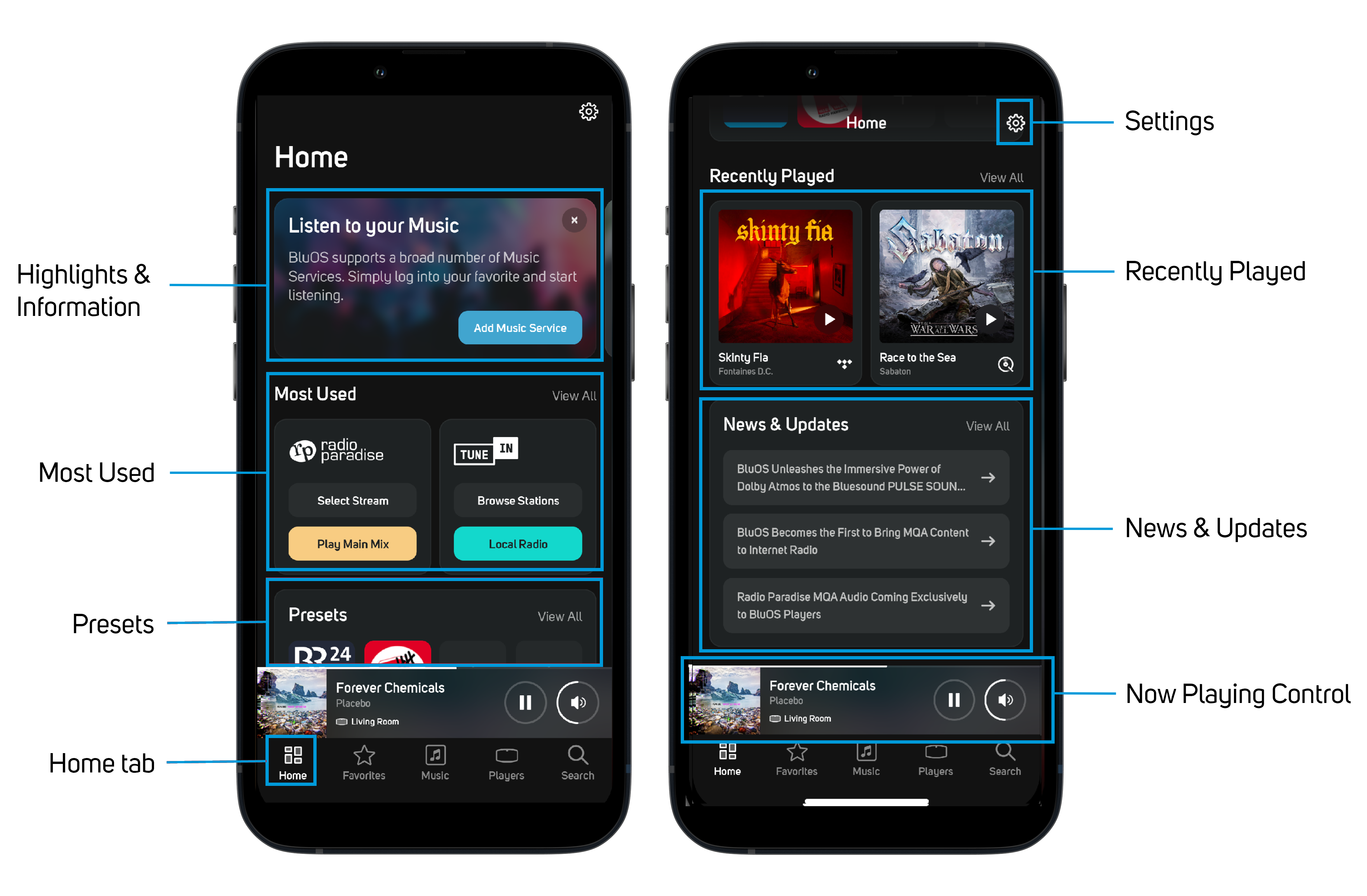 While using the BluOS Controller App, the Home screen is the default launch screen, delivering easier access to music.
The Home screen also provides News/updates, guides, tutorials, and recommendations.
Highlights & Information
Displays tiles with information and guides for new users. When a Software Upgrade is available, this section displays the option to install the upgrade.
These horizontally scrollable tiles are closable. Closing the Software Upgrade tile hides it for 24 hours.
Most Used
Displays Services and Inputs that are most frequently used for instant access.
This section consists of a maximum of 5 tiles and is horizontally scrollable.
Each Service/Inputs tile consists of two buttons.
Primary button – accent color of the service and links to the important element of it.
Secondary button – links to another feature of the service.
(If applicable) Selecting the title or logo of the Service launches the browse window view of the service.
View All lists the entire Most Used options.
Presets
Displays presets created by users.
View All lists the entire Presets options created.
Recently Played
Displays the five recently played content (Albums, Songs, Playlists, Station & Inputs).
Selecting the Play button starts playback. Selecting any other area on the tile launches the related detailed screen.
View All lists the entire recently played items.
BluOS Playlists
Displays BluOS Playlists that are saved directly to the BluOS Ecosystem. They can be composed of songs from your Local Sources and any compatible Streaming Service that offers their content as individual tracks.
News & Updates
Provides information on new music services, outages, or special occasions.
Now Playing Control
Quick access to view or manage media playback. Select to launch the Now Playing Screen for enhanced control over your media playback.
Settings
The Settings button launches the Player's Settings menu and Help & Support options.