Bluesound Generation 2 or later players support IR Remote learning.
To program IR Remote learning, perform the following:
In the BluOS Controller App, on the left Navigation Drawer, select Settings > Player > IR remote > IR Learning. The list of available programmable functions is displayed.
Select the required function, point an IR remote at the BluOS Player, and press the button to be assigned to perform that function on the remote.
Checkmark appears next to the function indicating that the IR programming was successful.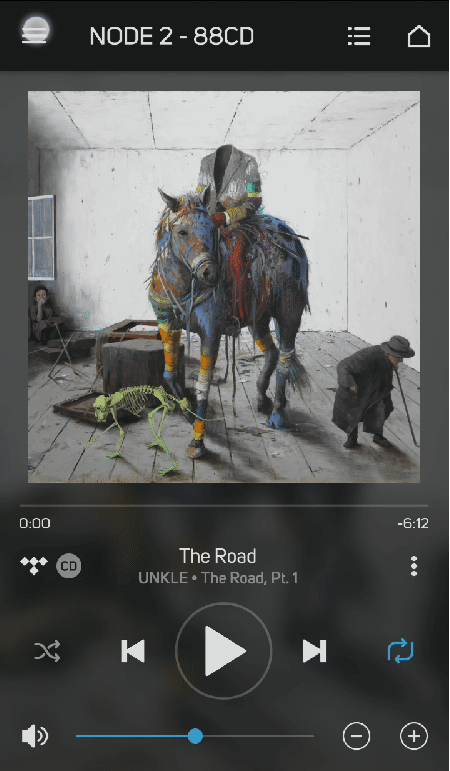 The available programmable IR functions* are listed in the table below:
Repeat

Listening Mode TV

HDMI ARC* Input (TV Mode)

Play

Shuffle

Listening Mode Music

Optical Input (TV Mode)

Pause

Previous

Listening Mode Movie

Analog Input (TV Mode)

Play/Pause Toggle

Next

Volume Up

Volume Down

Mute

Preset (1-10)
To clear any remote configuration, perform the following:
Select the programmed function (with a checkmark).
Select Clear Code. The checkmark next to the function disappears.
To reset the entire remote function configuration, select Clear All at the bottom of the list.
Notes
*The available IR functions vary with BluOS Players.
IR Remote learning is not possible with Generation 1 Bluesound Players due to hardware limitations.
When using a remote to control the volume on PULSE SOUNDBAR, verify the TV audio setting and disable the built-in speakers of the TV.
Optical Input (TV Mode) sets the source of the Player to Optical Input and is ideal for programming with the Power button of your TV remote.
PULSE SOUNDBAR+'s HDMI eARC supports CEC. Controlling attached players with the TV's remote, may or may not work depending on the HDMI-CEC implementation by the TV manufacturer